Reasons Why SEO is Better than Adwords
Whenever setting up an online business or expanding your local business to target online customers; you have to engage in an internet campaign to increase traffic to your website. Ensuring traffic flow to your website is important because you will increase your chances of converting your viewers into real customers. There are different ways of ensuring that the right traffic flows to your website. Two of the most popular ways are through the use of organic SEO or Google Adwords.
While both methods are widely used to influence traffic to a specific website, SEO is seen to be a better option in getting website traffic. Not only will SEO get you enough traffic but also gather traffic that might probably be turned to real customers. While not disputing that Adwords is also a fine way of getting website traffic, it is important at this stage to state that SEO is by far the better option when it comes to getting internet traffic because of these following reasons:
Top Reasons Why SEO is Better than Adwords
There are many reasons why SEO is considered to be a better option in internet marketing but here are some of the top reasons why one should opt for SEO instead of Adwords.
Diversification
SEO projects automatically become very diversified. If you are targeting 20 keywords, more than 50 keywords will rank by the time you will rank those 20. Whereas in adwords you need to pay more money to target those remaining 30 keywords for every click they will get. Also because seo experts promotes your website everywhere possible you get customers from all sorts of different platforms for example directory listings websites such as yellow pages and true local.
Adwords is Limited to Google's Network
Google Adwords is only limited to the Google network. This means that when you use Adwords, you only get attention of internet users from Google. SEO is seen as an effective way of website advertising since one gets users from different search engines including Google, Bing and Yahoo- which are the top search engines. Getting such a huge base is definitely an effective way of increasing one's chances to get more traffic flowing to their website. Therefore, one should opt for SEO when looking for traffic across the different search engines.
SEO Improves Resale Value of a Business
Unlike Adwords, SEO is known to add value to businesses. If you have a business website that has high organic traffic, you improve the resale of your business. Should you want to sell your business you have a good bargaining power since you have enough traffic. The same is extended to those selling websites. A website that is highly ranked due to good SEO is most likely to generate more income should there be a reason to sell it. Business websites using Adwords to increase their traffic do not have a good market value since the buyer will have to maintain the costs of advertising.
SEO promotes Branding
Traditional SEO practices have been very crucial in branding of a business. If you have a business and you need to give it a brand name, then you have SEO as your best companion. It is only through using SEO as a marketing tool that your brand will be strongly built in the online platform. Those using Adwords cannot be guaranteed of building a brand name since internet users are keener on natural content and not Ads imposed on them.
SEO provides Equal Competitive Grounds
Another reason why SEO is better than Adwords is the fact that it provides an equal competitive ground for traffic. Whether you have a small, medium or large sized business, SEO will give you equal treatment. Your ability to get on top of search engine rankings is not dependent on the amount of money you put but rather picking a good SEO expert and using the right keywords to improve your visibility. Therefore, SEO is particularly beneficial to small and medium sized businesses which are given the opportunity to equally compete with the large sized business fairly. Picking on Adwords will not guarantee you this competitive ground due to the latter's expensive nature.
SEO Manages your Online Reputation
Even without your knowledge, SEO is an important tool in managing your online reputation. You get this benefit by using SEO as an advertising tool and not Adwords. Adwords have proven not to be effective in guarding reputation. SEO involves participation in press releases, directory and classified websites, forums and social marketing websites which adds credibility to the business and create a positive vibe in the market.
Increasing Number of Adblocker Subscribers
Adblock is an extension that filters content and block Ads on browsers. There has been an increasing number of subscribers of Adblocker in the recent past. This is due to the perceived nuisance brought by Ads on one's desktop or mobile. Adwords have been affected by this growing trend. If people are using extensions that block these Ads, then one cannot view Ads displayed by Adwords. This is giving SEO an edge over Adwords since there is no way one can get rid of SEO in any way and people trust organic listings more.
Search Engine Optimisation is More Affordable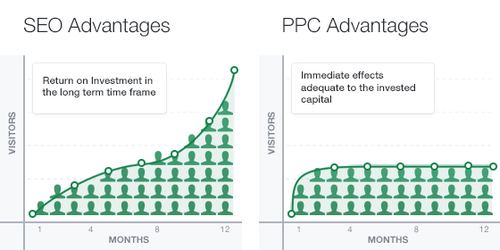 The benefit against Adwords is not it's cheapness but rather the value for money it offers to its users. As written above SEO offers lot more things than PPC including press releases, directories, classifieds, forums and lot more basically promotion of your website wherever possible to gain trust and authority of Google, It's a slow process but when google starts trusting your website, you don't have to spend fortune on SEO as it works automatically. SEO and PPC are like owning and renting a house. PPC is like renting a house, it does not matter how many years you pay rent for, the property is not yours whereas when you gain Google's authority, you don't need to put much efforts in SEO and you stay there on first page probably forever.
Adwords or PPC are Getting Expensive Day by Day
If you are running PPC campaign, you probably know by now that the cost per click is increasing everyday. You never decrease your bids but increase slowly and overtime it's too much. If you don't increase, someone will call you from Google and will convince you to increase bids in order to get effective results. SEO cost remain same unless you increase your expectations. The online marketing is on rise and everyone wants to be on Google's first page and adwords attract people as you can see quick results and because people are impatient, they understand that it's better than SEO. This also tells us that adwords will become more expensive because of more competition. Furthermore, the cost of Adwords can only go up. Never has Adwords cost been reduced. The whole essence of internet campaign is usually meant to make money and you have SEO as the best option in helping you to make more money by saving you the running costs as it is evident in Adwords campaign.
Real Reason – Must Read
According to Search Engine Watch SEO wins 94% of time. People click on SEO listings 94% more often than PPC listings on Google. This, in other words, means that a website using just Adwords or PPC as a way of getting its traffic is only guaranteed of a maximum of 6% traffic flow of the total percentage of internet users. Search Engine Watch is not just an orphan website on the web, it's a authority website and almost every tech person follow this authority website and millions of people visit this website every day. In the nutshell if you are ranking for the same keyword on 1 to 3 positions of adwords you will get less traffic in comparison with if you are ranking organically.
Fantastic Reason
Last but not the least SEO is relationship based service and PPC is really straightforward. If you are in a business in which sometimes you have the budget and sometimes don't, Adwords is really hard as Google won't run until they debit the balance from your account and you are stuck whereas you can easily negotiate the terms with your SEO provider or even ask them for extension and if you have friendly relations, you can pay whenever you want.
There could be a dozen more reasons why SEO is better than Adwords. The above mentioned benefits represent just but a few of the top reasons why website owners should seek SEO services instead of Adwords. If you are on a budget and can choose only one between SEO or Adwords, I will advise you to choose SEO to act as an online marketing tool due to its effectiveness, but if you have good budget and you can spend on both platforms, it's the best ROI you can get.