The Role of SEO Company after Rankings are Achieved


The key role of hiring SEO Company is to get you high up the search engines. They do this with much ease since they are experienced in this field. A company with a website will definitely need a SEO Company to get that website on top of the search engines. When you get a good SEO company to do that, your website will definitely be ranked high. So why do you have to keep on paying the SEO Company yet you have achieved your desired rankings? Well, there is so much that a SEO Company can still do even after achieving the desired ranking. Its a common misunderstanding that seo companies don't do anything after a website achieve first page rankings. Here below are some points which will help you understand the role of SEO Company after rankings are achieved.
• Implementing Conversion Optimisation
Rankings are just the first step. The work of SEO Company actually starts after achieving required rankings. There is so much to be done after the ranking has been achieved. The most important role of SEO is to implement conversion optimisation. Conversion Rate Optimisation creates experience for a website with an aim of converting visitors into potential customers. This helps in increasing the number of clients and hence a company is set to benefit.
• Content Strategy
For your website to survive on a top or any high ranking, you will need to have fresh, unique and optimised content. SEO Company will help in getting relevant content for your website even after achieving the desired ranking. This is in a bid to show worth for their money and also try to keep you up the ranking.
• Coming up with Trendy Keywords
In addition to the content the SEO Company gives a website, they also add the trendy SEO keywords replacing the previous keywords that might be outdated. Regular keywords monitoring is essential because overtime some keywords gets outdated and also there is always room for improvement when it comes to keywords. Keywords review or evaluation should be done every 6 months to find the gaps and improvement for seo strategy.
• Website Management
There are some SEO companies that work to manage the website of their clients even after achieving a high rank. This is done so as to allow them to respond efficiently to any emerging trend on optimisation of a website. Should there be any change, they respond with speed to avoid a drop in the rankings. Also, a website owner might not be aware of any defects of a website. In as a much as the website has its own technicians working on it, the SEO Company is important in the cleaning up process to give a SEO friendly face.
• Backlinks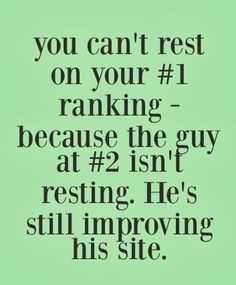 Backlinks are compulsory to be built even after you achieve the top rankings because suppose if you are on no.1 for all of your industry keywords (which is impossible), your competitor on no.2 is still building backlinks and will eventually outrank you. This goes to the competitor on no.3 and 4 and so on. So, in order to maintain top rankings it is important to create backlinks regularly.
From above, it can be clearly seen that the role of SEO Company is not just of importance before getting a higher ranking but also after achieving the desired ranking. Therefore, you should not dismiss a SEO Company after getting a top ranking.